Extrusion is a process that creates a cross sectional foam shape by forcing a molten thermoplastic through a die to produce long lengths. Most are cut into 2m to make them handlable.
Typically the larger sections are in cut into 2m lengths.
Due to the extrusion process. when the foam cools down, it creates an artificial skin on the exterior surface which gives the foam an extra protection layer. The fine closed cells create a waterproof barrier that also gives an excellent cushioning effect.
General Properties:
Lightweight
Excellent repeated shock absorption
Closed cell
Wide range of shapes and sizes
Aesthetically pleasing for packaging
Chemically inert
Highly resistant to chemicals
Compatible with all sealing materials
Environment riendly: free of CFC, HCFC and chemical blowing agents
100% recyclable
Light weight, flexible material, easy to install
Waterproof
Tube and Cylindrical Cord Profiles Pdf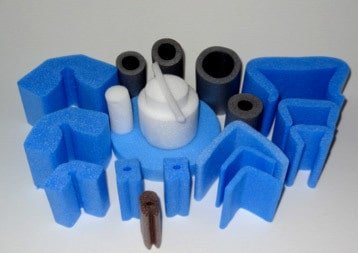 Intec Foams manage both large and small enquiries, we are here to help.
Should you have a specific requirement or enquiry for these products or any other potential application, please give us a call on 01283 225796 for a friendly impartial discussion, or simply complete our online web form or email us at: info@intecfoams.co.uk and we will respond immediately.