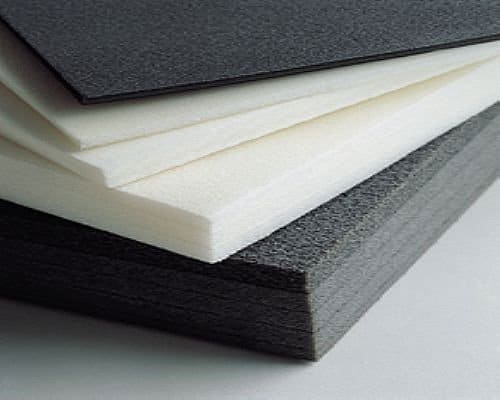 Intec Foams are a long established supplier of PE Foam, a closed cell Polyethylene foam produced in cross-linked or non cross-linked versions.
Cross linked foam has superior physical properties and is strong, resilient, RoHS Compliant, eco friendly and non-toxic closed cell foams. This makes them ideal for applications in the Food Industry, medical & healthcare, bespoke packaging and many more
We offer a full range of PE foam, and also design and create foam products to customer specifications.
PE Foam design and manufacture for bespoke applications
With over 30 years' experience in creating foam products for industry, we are able to design and produce a PE foam product created exactly for the purpose you require. We also work to tight tolerances against other Foam Converters, and have an excellent turnaround time and reputation within the industry. Please see our recent case studies for examples of new foams developed, and how we helped the companies involved solve their specific foam issues and problems.
No job is too small or large and we can deliver goods Worldwide through our Network of Partners
PE foam comes in a range of different types and grades. Each one may be suited to a particular purpose or application. If you are unsure which one you need, or would like a foam made for your particular requirements, please contact us
Plastazote Foams ( LD15, LD18, LD24,LD29, LD33 & LD45)
Evazote Foams (EV30 & EV50)
Supazote EM26
Sekisui Alveo Foams
Palziv Foams
Stratocell Foams (Antistatic available)
Cross linked and non cross linked
Colour Foams are available in some grades such as yellow, green, red & blue. Black and white are standards.
PE foam is one of the most versatile foams we supply. Its inherent properties make it ideal for a huge range of applications.
Properties
Closed cell – does not allow the ingress of water
Low Density – lightweight
Chemically Inert – Good for food related applications with some FDA approved
Excellent Impact & Shock Absorption – a very good packaging foam
Excellent Chemical Resistance
Excellent UV and Ozone Resistance – does not readily degrade
Excellent thermal and chemical sterilization for medical devices
Excellent Thermal Insulation
Temperature Resistance Typically: -40˚C to +90˚C
Its incredibly versatile properties make PE foam ideal for use in a range of environments and for many applications.
Floatation & Buoyancy Devices – Lifejackets, Canoe Buoyancy
Medical – Orthopaedics, Suture pads, Medical Device Packaging
Seals & Gaskets (with or without self-adhesives)
Anti – Vibration Pads which can be kiss cut on rolls.
Shock Absorption Pads, Boat Fenders, Crash Mats
Building & Construction – Sound Insulation. Thermal Insulation (Frost Blankets), Eaves Fillers, Expansion Joints
Packaging (Presentation Packaging, Tote Trays, Cushion Packaging, Edge Packaging, Corner Protection, Point of Display),
Pond and Swimming Pool Covers
If you have a new idea or use for PE foam and want to discuss if it is possible, or looking for advice on the next stage, please contact us and we'll be happy to help.
Polyethylene Foam Extrusions and Profiles
Extrusion is a process that creates a cross-sectional foam shape by forcing a molten thermoplastic through a die to produce long lengths. Most are cut into 2m to make them handleable.
Typically the larger sections are in cut into 2m lengths.
Due to the extrusion process. when the foam cools down, it creates an artificial skin on the exterior surface which gives the foam an extra protection layer. The fine closed cells create a waterproof barrier that also gives an excellent cushioning effect.
General Properties:
Lightweight
Excellent repeated shock absorption
Closed cell
Wide range of shapes and sizes
Aesthetically pleasing for packaging
Chemically inert
Highly resistant to chemicals
Compatible with all sealing materials
Environment riendly: free of CFC, HCFC and chemical blowing agents
100% recyclable
Light weight, flexible material, easy to install
Waterproof
Tube and Cylindrical Cord Profiles Pdf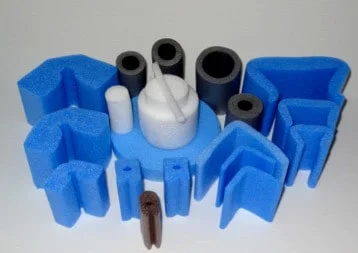 Available Profiles (click to expand)
Intec Foams manage both large and small enquiries, we are here to help.
Should you have a specific requirement or enquiry for these products or any other potential application, please give us a call on 01283 225796 for a friendly impartial discussion, or simply complete our online web form or email us at: info@intecfoams.co.uk and we will respond immediately.