PU foam (polyurethane) is created in a basic chemical rection of a Polyol and Isocyanate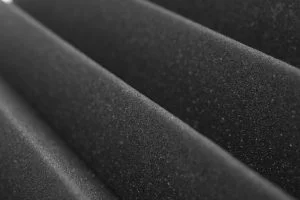 The final product is determined by the addition of other chemicals but also by the actual polyol type determines the 2 basic family types.
Polyether PU Foam (ether foam) – These tend to be the softest of grades and used in many retail and low cost applications. Densities range from 15 – 30 Kg/m³ as standard but others are available. The foams are prone to "blow holes" due to the foaming process.
Polyester PU Foam (ester foam) – Mainly of improved physical properties, and controlled cell structure. Densities in general are from 20 – 60Kg/m³ Used where better performance is required and more technical characteristics.
PU foam is also known as Sponge, because early grades were developed that gave the look of  Natural Sea Sponges, and are used for car sponges or bath sponges. Intec Foams has the ability to create shapes from these grades for bespoke applications.
Compared to most foams, Flexible Polyurethane PU Foams are of low density with a variety of inbuilt properties designed for specific applications.
There are also some grades of sponge and foam that have been developed with Hydrophilic properties, used for absorbing water e.g. in the Pottery Industry for removing water from pots before firing.
Technical Grades exist, which are derivatives of the above 2 family types: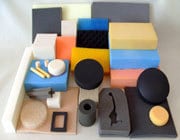 Reticulated PU Foams
Special foams where the cell windows have been completely removed by a controlled explosion technique called "Zapped" Reticulation; in polyether and polyester grades. Available in different porosities to filter out different particle sizes.
Reticulated PU Foams Polyether
10ppi to 60ppi for aquatic and pond filtration
100ppi is available.There is a special 50 – 65ppi that has been developed for HME Filters and a 75ppi for Ink reservoirs, ink rollers and ink pads.
Polyester
10ppi to 90ppi for air and gas filtration.
Q110ppi (a special chemical etching reticulation process called "Quenching") developed for cosmetic and medical applicators. This has a large MOQ
Typical Applications:
Water Filters
Pond Pump Filters
Tertiary Sewage Tank Filters
Heat & Moisture Exchange Filters
Cosmetic Foams
Air Filters
Ink Reservoirs
Pre-Cursor's for Ceramic or Metal Filters
Many More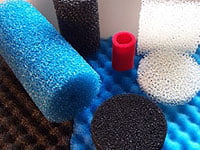 Sealtec PU Foam
Produced in polyether and polyester grades for low compression seals to replace heavier/higher density EPDM in Automotive applications where weight saving is important.. Needs to be compressed by 60 – 70% to achieve a seal.
Typical applications
Automotive lamp cluster seals
Automotive door seals
Caravan window and skylight seals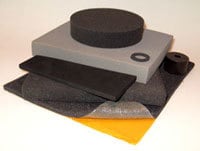 Sealtec Aqua PU Foam (new product)
Sealtec – Aqua has been developed to provide reliable sealing against gases, liquids and particulates at reduced levels of compression, in comparison to traditional PU sealing foams which have inferior qualities.  Needs only a 30% compression to achieve a seal.
Key Features v's conventional PU foams for sealing
Improved Durability
Improved Hydrolytic Stability (better in water/moisture)
Lower compression to create a seal
Fine cell structure
Soft
Low density
Firetec PU Foam
Available in polyether and polyester versions, with UL94 HF1 and V0 grades of fire retardancy which is an important factor in many electronic and acoustical applications. Also to BS 476 part 6 & 7 Class O for the Building & Construction Industry
Typical Uses:
Lining of Electrical/ Electronic Cabinets
Lining of Acoustic Hoods and Generator Housings
HVAC panels for acoustic applications
Transfer rollers in high tech business machines
Prison Cell Mattresses
Fire-blockers for seating applications in aircraft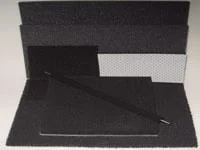 SAF (Shock Absorption Foams) Visco Elastic PU foams
Similar in nature to memory foam used in mattresses, except ours exhibit improved visco-elastic behaviour similar to Conforfoam™ but at a fraction of the price. Ideal for comfort management and protective padding applications especially shock absorption foam products.
Soften and conform when exposed to heat.
Virtually pressure free support
High energy absorption (up to 97% of an impact)
Resist Compression set
Typical Uses:
Wheelchair Cushions
Medical slings
Wrist rests
Shoe Insoles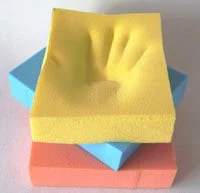 Felted Foams
These are special grades of PU foams that are thermally compressed until the foam takes a compression set. Effectively, this treatment increases the density, reduces the pore size and makes the foam firmer.
This is especially effective when taking a reticulated foam and felting it. By reducing the cell size, it creates a structure which creates a "Wicking" effect and draws in liquids into the foam structure. Ideal for the creation of an ink reservoir.
The foam can be compressed by several factors, only restricted by the height of the daylight press and the final thickness required.
Typical Uses:
Ink rollers
Ink pads
Acoustic pads
Filters
High density padding
Most PU foams can be felted and some others too.
Special grades:
Polyurethane Foams can be developed to give specific properties or adding to existing grades
Automotive Foam Types
Anti-Microbial & Biocide additives to Resist Growth of mould/mildew
Anti-Static
Edge weldable
Water Seal (Superseal)
Low Permeability
Thermoformable
Hydrophilic – (Absorbs water)
High Elongation – Neoprene Replacement
UV Stabilised foams (Staywhite)
Many Others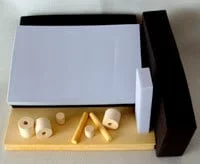 Intec Foams manage both large and small enquiries, we are here to help.
Should you have a specific requirement or enquiry for these products or any other potential application, please give us a call on 01283 225796 for a friendly impartial discussion, or simply complete our online web form or email us at: info@intecfoams.co.uk and we will respond immediately.