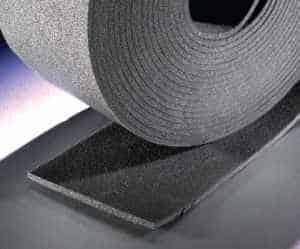 When new Houses and Buildings are constructed, there are many outside influences which create issues, such as Temperature, Tolerances in fitting of windows and doors creating gaps, Noise due to interior structure. The solutions are foams in various formats to fill those gaps, insulate against frost or to retain heat in pipes, absorb sound in walls, floors and underfloor systems and other applications such as solar panels.
Intec Foams offer solutions to these issues with our range of foams that can be designed for your specific application. They include foams that meet BS 476 part 6 & 7 Class O.
We have the facilities to cut foams from slabstock materials to create a quality product that will suit your needs; whilst offering low minimum order quantities and fast turnaround. Please contact us to discuss your requirements.
Foams include:
EPDM Sponge Rubber
PVC Foam
Polyethylene Foam
Polyurethane Foam
PVC/Nitrile Sponge Rubber (NBR)
Melamine Foam
Our conversion unit has the capabilities for applying self adhesives and cutting to sizes that are required for the clients individual applications.
Typical Applications include:
Frost Blankets –

PE Foam for thermal insulation

Pipe Insulation –

PE Foam or PVC-Nitrile for pipe lagging

Solar pipe insulation –

EPDM+ for pipe lagging

Expansion Joint Fillers –

PE Foam (Low density for brickwork & blockwork)

Expansion Joint Fillers –

PE Foam (Med. Density for brickwork & blockwork where water needs keeping out)

Backer Rod/cord –

PE Foam, EPDM Sponge

Seals (glazing units) –

PVC Foam

Seals (uneven surfaces) –

PU Foam impregnated with Acrylic similar to Compriband

Weatherstrip –

PE Foam, EPDM Sponge

Bearing Strips –

PE Foam

Acoustic Flanking Band –

PE Foam (isolates acoustic flooring systems)

Gutter Filters –

Reticulated PU Foam for keeping leaves out of the system

Parquet Floor Underlay –

PE Foam
We offer a range of closed cell PE foam cord and tubes in diffrent diameters plus Neoprene Sponge Rubber cord in a variety of diameters. The foams are packed in boxes and we sell by box quantities
Should you have a specific requirement or enquiry for these products or any other potential application, please give us a call for a friendly impartial discussion, or simply complete our online web form or email us at: info@intecfoams.co.uk and we will respond immediately.